Ductless Fume Hood
Ductless fume hoods, or filtered fume hoods, are self-contained, filtered enclosures that remove hazardous fumes, vapors and particulates from the immediate environment. Typically used in locations where outside ventilation cannot suffice, a ductless fume hood is a necessity to eliminate high percentages of harmful contaminants to protect users, applications and the atmosphere.
There are a few key characteristics that distinguish Ductless Fume Hoods from Conventional Ducted Fume Hoods (that typically vent outdoors):
A "recirculating" air pattern and no external ducting or venting.
The use of high-quality filtration media.
Benefits including environmentally-friendly operation, energy efficiency, cost efficiency, minimal maintenance, and mobility.
View Custom Ductless Fume Hoods
Select Your Size:
12"
18"
24"
30"
40"
50"
60"
70"
Advanced Hood
How does a Ductless Fume Hood work?
Operators perform their process in the work area of the hood. The access area at the front of the hood is often referred to as the "sash ". While performing in the work area, fume and particulate emissions from the application are quickly pulled into the filtration system by a powerful fan situated on top of the hood.
Air is processed through a pre-filter, which captures some of the particles.
Air is passed through the main filter and the majority of contaminants are captures. Main filter options include:

HEPA Filter [up to 99.97% efficient on particles 0.3 microns and larger]
ASHRAE Filter [up to 95% efficient on particles 0.5 microns and larger]
ULPA Filter [up to 99.9995% efficient on particles 0.12 microns and larger]
Activated Carbon Filter [efficiency rate varies with the chemical being extracted]
Specialty-blended Filters [e.g. Acid Gas, Aldehydes, Ammonia, Mercury]

Once filtered, air is distributed back into the immediate environment.
Ductless Fume Hood features and benefits
Environmentally-Friendly: In many cases, ducted exhaust hoods empty extracted fume and particulate directly outdoors without sending it through a filtration system first. Ductless Fume Hoods trap hazardous particulate in filters so they can be disposed of properly.
Energy Efficiency/Cost Efficiency: Ductless Fume Hoods recirculate existing room air, while externally ducting systems remove heated, cooled, or dehumidified air outdoors, which requires that air to be replaced. This has the potential to waste energy and increase cost.
Minimal Maintenance & Installation Requirements/Easy Mobility: While externally ducting exhaust hoods require complicated installation because of ducting construction, Ductless Fume Hoods can be up and running with minimal installation. They are essentially "plug and play" solutions. Ductless Containment Hoods do not require any ducting or external venting and can be moved from location to location with relative ease. The only maintenance requirements are replacing saturated filters and wiping the hood down with appropriate cleaning supplies from time to time.
All specifications are nominal and subject to change without notice. Not intended for explosive or highly flammable applications. (i.e. when the Lower Flammability Limit is exceeded for any given chemical). Please consult the specific MSDS for questions regarding flammability limits.
Ductless Fume Hood Accessories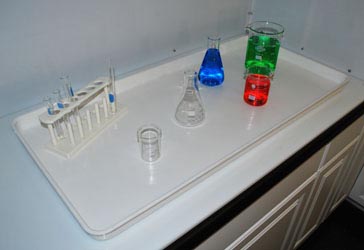 Fiberglass Spill Tray
Available in a variety of
sizes and specifications.
More Info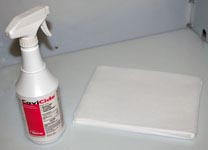 CaviCide w/ 25 Wipes
SS-025-CSW
Surface disinfectant
and decontaminant cleaner.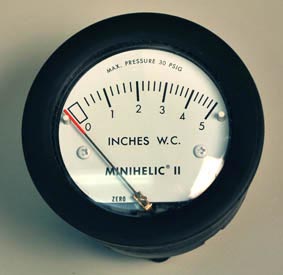 Magnehelic Gage
SS-300-MAG
Monitors filter saturation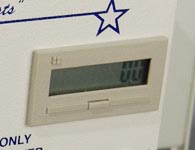 Hour Counter
SS-000-HC
Displays hours unit has
been in operation.
REPLACEMENT
FILTERS