Ducted Fume Hoods
A ducted fume hood, or ducted exhaust hood, is typically a piece of equipment that encloses five sides of a work area to protect the user from inhaling or being exposed to high volumes of toxic fumes, gases and particulate where typical air filtration and recirculation is not feasible. These hooded systems employ the combination of a powerful fan and multiple pre-filters, HEPA filters and activated carbon filtration to effectively contain harmful over spray particulates and fumes.
Select Your Size:
18"
24"
30"
40"
50"
60"
70"
How does a Ducted Fume Hood work?
Sentry Air Systems Ducted Fume Hoods are designed for applications that require a hard-ducted exhaust system for removal of hazardous fume and particulate. These compact, sturdy enclosures are comprised of three main support walls, a clear sloped lid for entry access, and a top support panel with exhaust collar. Operators then use appropriate ducting to connect the exhaust collar to the building's exterior ventilation system.
This unit does not include ducting or fan. Ask Sentry Air Systems Applications Specialists for assistance in selecting a suitable fan. To view fume hoods that include a fan and filtration media, visit our Ductless Fume Hood page.
Ducted Fume Hood Features and Benefits
Durable and Cost-Effective: Sentry Air Ducted Exhaust Hoods are constructed from high-density polyethylene and polycarbonates and is resistant to many chemicals and solvents. It is an effective and economical tool for enclosing a work area that uses hazardous chemicals, solvents, powders, or other volatile organics.
Variety of Standard Widths: Our standard Exhaust Hoods range from 18- to 70-inches wide, giving operators greater flexibility when matching a hood size to their specific application and workspace.
Fits Standard Countertops: The exterior depths of our Exhaust Hoods are approximately 24-inches; the depth of most standard countertops. Special stands or tables are typically not required which saves both money and set-up time.
Customization Options:

Material (PVC, metal, ESD-Safe)
Dimensions (width, height, depth, access)
Cutouts for instruments, sinks, and application-specific devices
Multiple work-entry configurations

Optional Accessories

Spill Trays
Velometer
Cleaning Products
Black Light
All specifications are nominal and subject to change without notice. Not intended for explosive or highly flammable applications. (i.e. when the Lower Flammability Limit is exceeded for any given chemical). Please consult the specific MSDS for questions regarding flammability limits. The end user is ultimately responsible for conforming to all applicable exhaust ventilation regulations. Consult local, state and federal agencies regarding the suitability of your application prior to venting fumes to the environment. It is your ultimate responsibility to ensure the safety and suitability of your application. For more information, contact a local safety professional (certified industrial hygienist) for conformance and suitability.
Ducted Fume Hood Accessories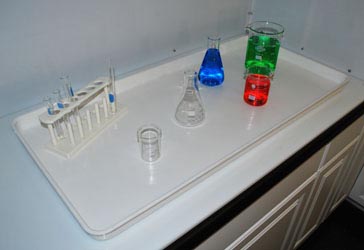 Fiberglass Spill Tray
Available in a variety of
sizes and specifications.
More Info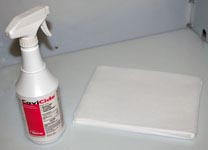 CaviCide w/ 25 Wipes
SS-025-CSW
Surface disinfectant
and decontaminant cleaner.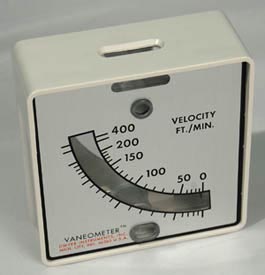 Velometer
SS-000-VEL
Measures air flow in feet/minute.