Multi-Station Fume Extraction
Concept Design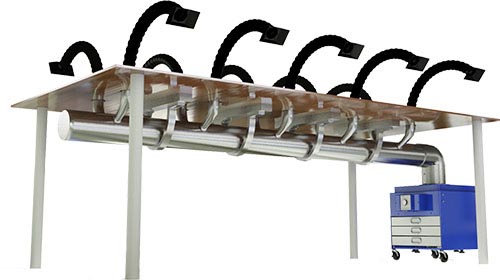 This multi-operator fume extraction system is a conceptual design by Sentry Air System's mechanical engineers that is intended to incorporate up to 20 workstations with bench-top fume extraction access. This system is engineered using a Sentry Air Model 450 Fume Extractor that can be affixed to appropriate tubing or piping (not included) and outfitted with the desired amount of self-supportive flex arms. Sentry Air Systems will supply the fume extractor and flex arms, but will not be responsible for tubing/piping or the attachment of any elements of the apparatus.
Typical uses of this unit might include solder fume removal, chemical fumes removal, light grinding, and various other industrial processes.
The Model 450 Fume Extractor will deliver a specified air flow that is dependent on the amount of arms attached and the length of piping utilized. Based on factory testing, the chart below demonstrates the approximate CFM (cubic feet per minute) for both Sentry Air's HEPA filter (with pre-filter,) as well as our 22lb. Carbon Filter based on the number of arms attached: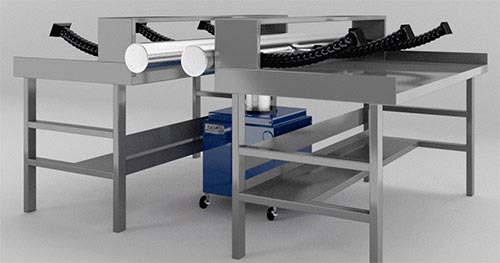 SPECIFICATIONS - MODEL 450 FUME EXTRACTOR
Cabinet Dimensions:

20" D x 20" W x 17.25" H

Weight:

50 lbs to 100 lbs. (Depends on Filter Media Used)

Cabinet Material:

16 ga. carbon steel

Motor:

Fractional Horsepower

Available Filter Efficiencies:

HEPA Filter - Up to 99.97% efficient on particles down to 0.3 microns in size.
ASHRAE Filter - Up to 95% efficient on particles down to 0.5 microns in size.
ULPA Filter - Up to 99.9995% efficient on particles down to 0.12 microns in size.
Activated Carbon & Specialty-Blended Filters - Efficiency varies per chemical.

Air Volume:

Variable Speed Control Standard
950 CFM High, Down to 55 CFM Low


Electrical:

115/1/60, 10 amps

Sound Level:

Approx. 72 dba @ 3'

Warranty:

Limited two-year warranty from date of shipment on defects due to materials or workmanship.
All specifications are nominal and subject to change without notice. Not intended for explosive or highly flammable applications. (i.e. when the Lower Flammability Limit is exceeded for any given chemical). Please consult the specific MSDS for questions regarding flammability limits.