Portable Mini Fume Extractor
Mini Fume Extractor
Model # SS-200-MFE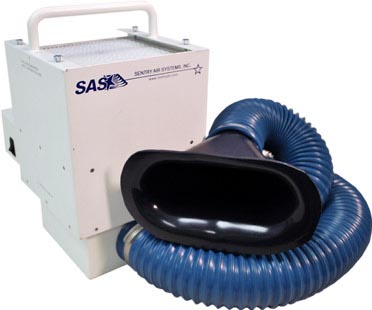 The Mini Fume Extractor is designed to extract fumes and particulate in hard-to-reach areas. The system's small size, quiet operation, convenient mobility, and high efficiency filtration provides an excellent choice for several applications including: maintenance welding, brazing, soldering, light epoxy or solvent fume removal, chemical fumes, and particulate extraction. The convenient carrying handle and magnetic hood make this unit highly portable.
There are several filter options available for this system. HEPA [up to 99.97% efficient on particles 0.3 microns and larger], ASHRAE [up to 95% efficient on particles 0.5 microns and larger], Activated Carbon, and specialty-blended filtration media [i.e. Acid Gas, Mercury, Aldehyde, Ammonia] are the most common options.
The Mini Fume Extractor is an excellent choice for maintenance applications and for those requiring fume extraction in confined spaces. The included 43" long, fire-retardant python hose is extremely flexible and easily maneuverable.
Larger Models are also available [SS-300-PYT & SS-400-PYT].
Specifications
Cabinet Dimensions:

10.5"L x 8"W x 12"H

Arm
Dimensions:

3" Round x 43" Flame Retardant Hose w/ Magnetic Capture Hood and Handle

Weight:

15 lbs.

Cabinet Material:

16 ga. carbon steel

Motor:

Fractional Horsepower

Available Filter
Efficiencies:

HEPA Filter - Up to 99.97% efficient on particles down to 0.3 microns in size.
ASHRAE Filter - Up to 95% efficient on particles down to 0.5 microns in size.
ULPA Filter - Up to 99.9995% efficient on particles down to 0.12 microns in size.
Activated Carbon & Specialty-Blended Filters - Efficiency varies per chemical.

Air Volume:

Up to 100 CFM

Electrical:

115/1/60, .3 amps
220/1/50, .2 amps

Sound Level:

Approx. 56 dba @ 3' from inlet

Warranty:

Limited two-year warranty from date of shipment on defects due to materials or workmanship.

Patented Design:

U.S. PATENT #5,843,197
All specifications are nominal and subject to change without notice. Not intended for explosive or highly flammable applications. (i.e. when the Lower Flammability Limit is exceeded for any given chemical). Please consult the specific MSDS for questions regarding flammability limits.
Accessories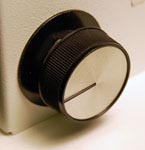 Variable Speed Controller
SS-000-VSC
Control air velocities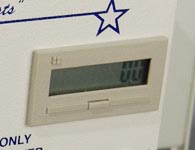 Hour Counter
SS-000-HC
Displays hours unit has
been in operation.
REPLACEMENT
FILTERS