Positive Pressure Winged Sentry w/ Lid
Anti-Static Laminar Flow
Model # SS-100-WSL-PP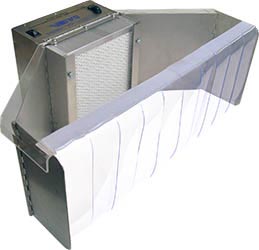 The Stainless Steel Positive Pressure Winged Sentry with Lid is an anti-static clean room air filtration system designed for stationary, benchtop applications requiring an ISO Class 5 rated environment (Tested under manufacturer conditions in an approximately 600 SF office setting). The system is equipped with a quiet, energy efficient fan and high-quality HEPA filtration media [up to 99.97% efficient on particles 0.3 microns - or 300 nanometers - and larger].
The system offers an effective, compact and economical solution for many precision benchtop clean room operations including data recovery, optical and projection lens cleaning and repair, and electronics assembly. The unique design includes two "wing-style" sides that can adjust to make the work area either wider or narrower. The included clear lid offers additional protection from ambient air. A high-powered fan pulls ambient air through the HEPA filter chamber - where airborne contaminants are captured – then directs the cleansed air into the work area.
The Positive Pressure Winged Sentry is a great solution for clean room applications that require only a small work area or where placement is tight. If a larger clean room environment is needed our Portable Clean Room Hoods are an excellent alternative.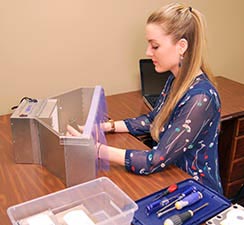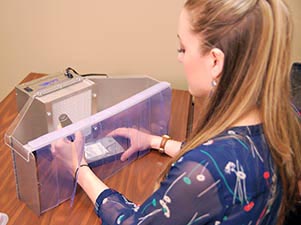 Specifications
Overall Dimensions:

6.25"L x 8"W x 8"H

Work Area Dimensions:

21.25"W x 9"D

Weight:

8 lbs.

Cabinet Material:

16 ga. stainless steel

Motor:

Fractional Horsepower

Available Filter Efficiencies:

HEPA Filter - Up to 99.97% efficient on particles down to 0.3 microns in size.
ASHRAE Filter - Up to 95% efficient on particles down to 0.5 microns in size.
ULPA Filter - Up to 99.9995% efficient on particles down to 0.12 microns in size.
Activated Carbon & Specialty-Blended Filters - Efficiency varies per chemical.

Air Volume:

Up to 80 CFM

Electrical:

115/1/60, .3 amps
220/1/50, .2 amps

Sound Level:

Approx. 62 dba @ 3'

Warranty:

Limited two-year warranty from date of shipment on defects due to materials or workmanship.

Patented Design:

U.S. PATENT #5,843,197
All specifications are nominal and subject to change without notice. Not intended for explosive or highly flammable applications. (i.e. when the Lower Flammability Limit is exceeded for any given chemical). Please consult the specific MSDS for questions regarding flammability limits.
Accessories
REPLACEMENT
FILTERS